Ginkgo leaf Extract
Botanical Source: Ginkgo biloba
CAS NO.: 90045-36-6
Used Part: Leaf
Active Ingredients: Flavoglycosides & Terpene Lactones

Function:
1. Blood flow amelioration, increasing brain blood-supply;
2. Blood fat and dense amelioration; Anti cardiovascular disease;
3. Anti-aging, eliminate free radical;
4. Remember amelioration, activate thinking ability;
5. Eliminate hands-feet anaesthesia;
6. Blood pressure regulation.

Application:
1. Applied in pharmaceutical field, it can be used for treating stomach ache, diarrhea, high blood pressure, nervousand respiratory diseases such as asthma, bronchitis
2. Applied in health product field, it can effectively reduce breast pain and emotional instability
3. Functional foods areas: Protecting vascular endothelial tissue, regulating blood lipids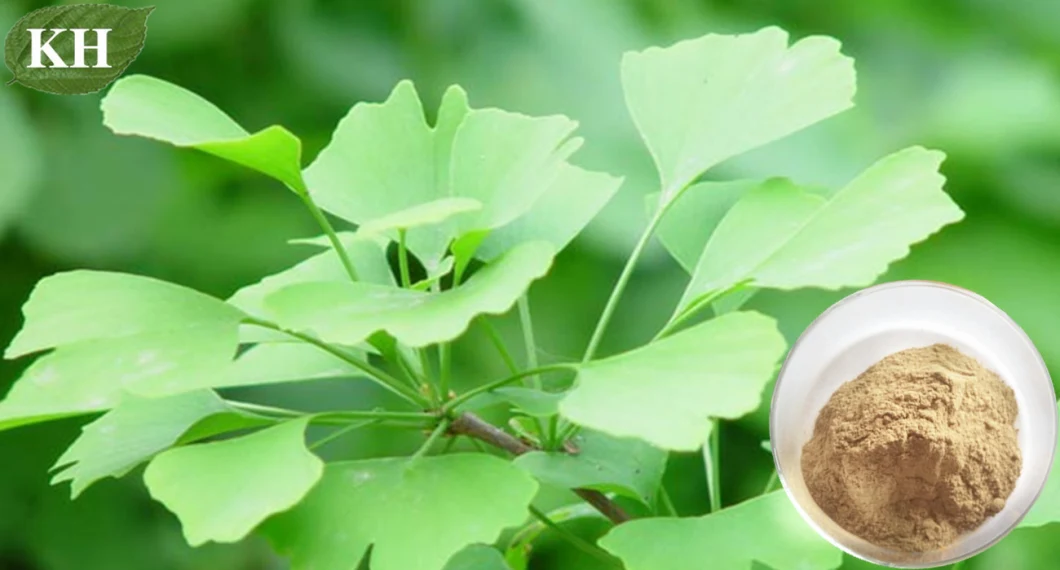 KINGHERBS' main products are the followings, the others listed in website are trading items.

1. Acai berry extract
2. Ajuga Turkestanica Extract
3. Allium cepa / Onion extract
4. Angelica extract
5. Arbutin
6. Aronia melanocarpa extract
7. Artemisinin
8. Astilbin
9. Astragaloside
10. Banaba leaf extract
11. Bambusa Vulgaris Extract


12. Beta Ecdysterone


13. Birch leaf extract
14. Birch bark extract
15. Bilberry extract
16. Blueberry extract
17. Bromelain/Pineapple Extract
18. Chicory extract inulin
19. Citrus aurantium extract
20. Cordydeps mycelia extract
21. Cat's claw extract
22. Co-Q10
23. Cranberry extract
24. Cytisine
25. Dihydromyricetin


26. Echinacea Purpurea Extract


27. Elderberry extract
28. Evening primrose oil
29. Fenugreek seed extract
30. Filipedula ulmaria extract
31. Gingerols
32. Gotu Kola Extract
33. Green Tea Extract
34. Gymnema Extract
35. Gynostemma Extract
36. Green Coffee Bean Extract
37. Hawthorn extract
38. Horsetail Extract
39. Hops extract
40. Kelp Extract
41. Kudzu extract
42. Ivy Extract
43. Java Tea Extract
44. Loquat Leaf Extract
45. Lotus leaf extract
46. Luohanguo Extract
47. Lutein/marigold extract
48. Luteolin
49. Mangosteen Extract
50. Mangiferin
51. Mulberry leaf extract
52. Myricetin
53. Natural colors
54. Pomegranate seed oil
55. Polygonum cuspidatum extract
56. Spirulina Powder
57. Red Yeast Rice Extract,
58. Reishi spore oil
59. Rose hips extract
60. Rosemary extract
61. Sea buckthorn seed/berry oil and extract
62. Sesamin
63. Stevia Leaf Extract
64. Sweet tea extract
65. Taxifoliol /Distylin
66. Tea tree oil
67. Tongkat Ali Extract
68. Tribulus Terrestris Extract
69. Turmeric Extract
70. Lycopene
71. Ursolic acid
72. Valerian Root Extract
73. Vegetable&fruit powder
74. Zerumbone/Zingiber Zerumbet Extract
75. Zeaxanthin
*Herbal extract
* Softgel
* Herbal oil
*Natural color
*Herbal powder
*Vegetable & Fruit powder
*Vitamin
*Mineral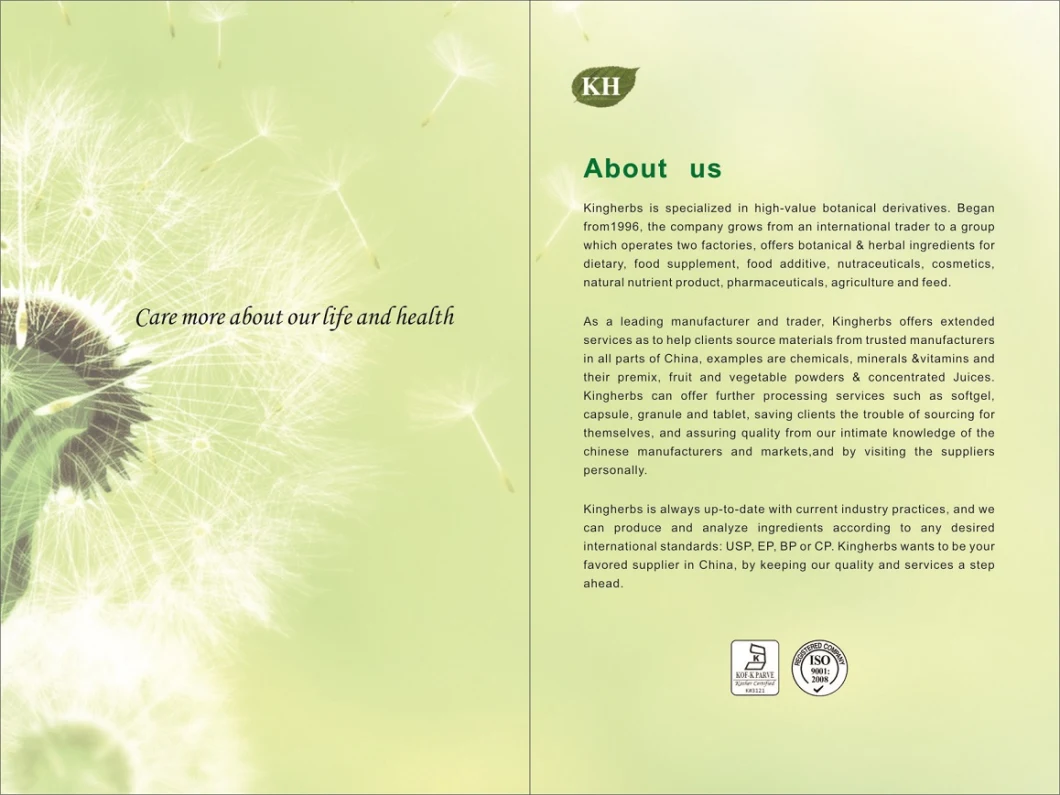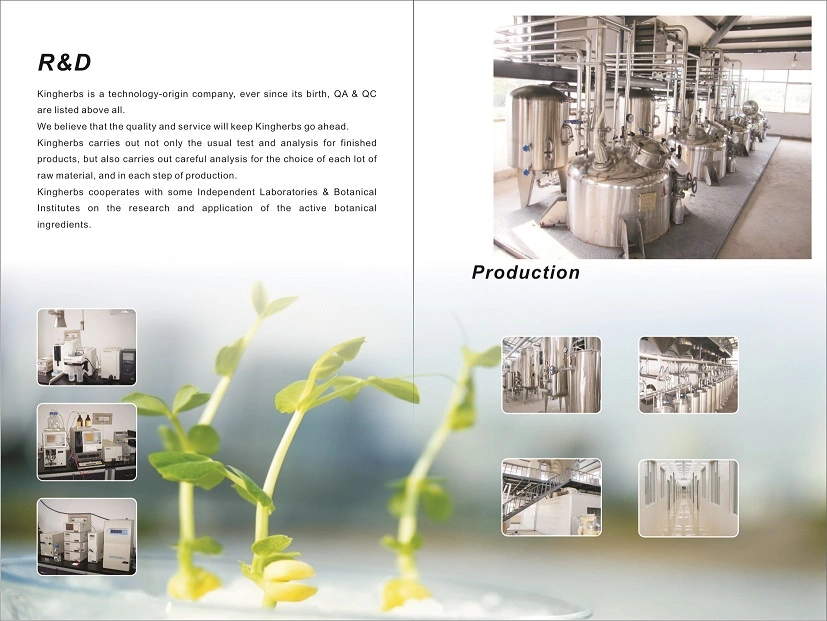 Our advantages:
1. Our factory have passed the ISO9001, Kosher,manufactured from1996
2. We inspect the manufacture process strictly and the quality can be controlled;
3. We supply high quality products, reasonable price, prompt delivery
4. Our best quality extract with natural and pure.
5. Enjoy a good reputation worldwide.
Characteristic:
- We can also customize orders as customer's requirements and specifications.
- KINGHERBS' is specialized in manufacturing and exporting different kinds of food industry related goods, such as Inulin (90% or 98%), Myricetin, Sea Buckthorn Oil, Green Coffee Bean Extract Total Chlorogenic Acids, Fenugreek Seed Extract Furostanol Saponins 50%,Artemsinin 99%, Natural Astaxanthin 1%-5% etc.
- With the effective exporting system and prompt reaction, we ensure that we can transfer the shipping documents and deliver our cargoes on time.